Sherrod Ford Trucks


Custom Ford Pickup Trucks
Ford trucks are rugged, tough and . . . luxurious? While that term may not be one that you generally associate with Ford trucks, the Sherrod difference will make you think again. From lift kits and stainless steel exhaust kits to leather seat upgrades, dual in-headrest monitors and aerodynamically designed body kits, these premium options are eye-catching and take your driving comfort to a whole new level.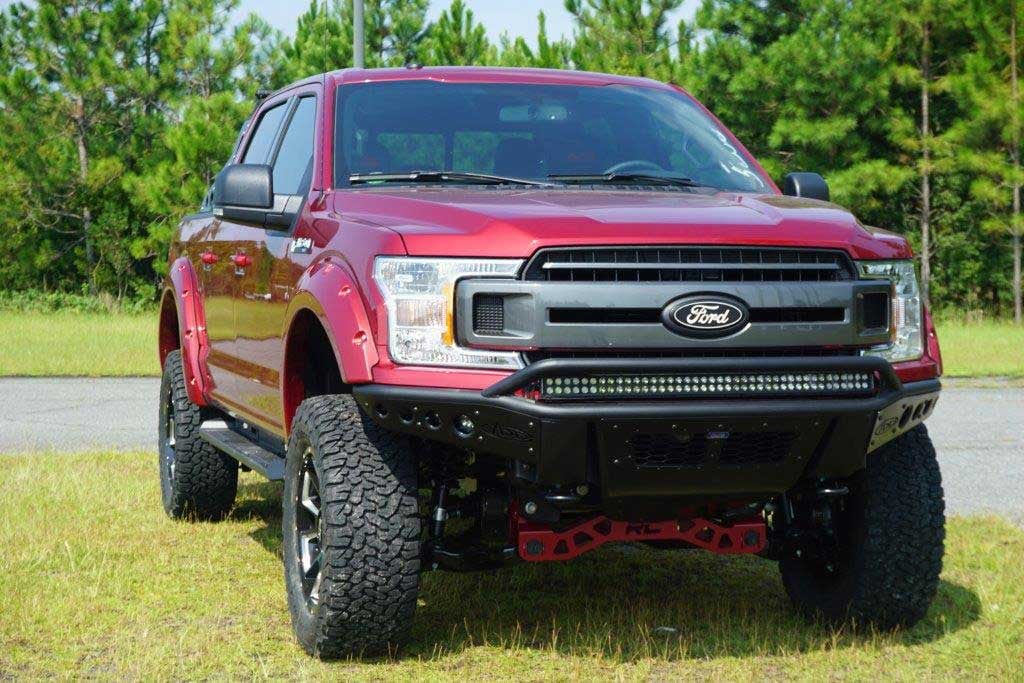 Ford F-150
Customizing your ride has never been more exciting than with the F-150: America's best-selling truck for 40 consecutive years and the most popular motor vehicle of all times. While the base vehicle itself offers a high level of quality and great features, Sherrod engineers and designers have created a new level of refinement that includes a variety of upgrades including leather seats, lift kits and larger wheels.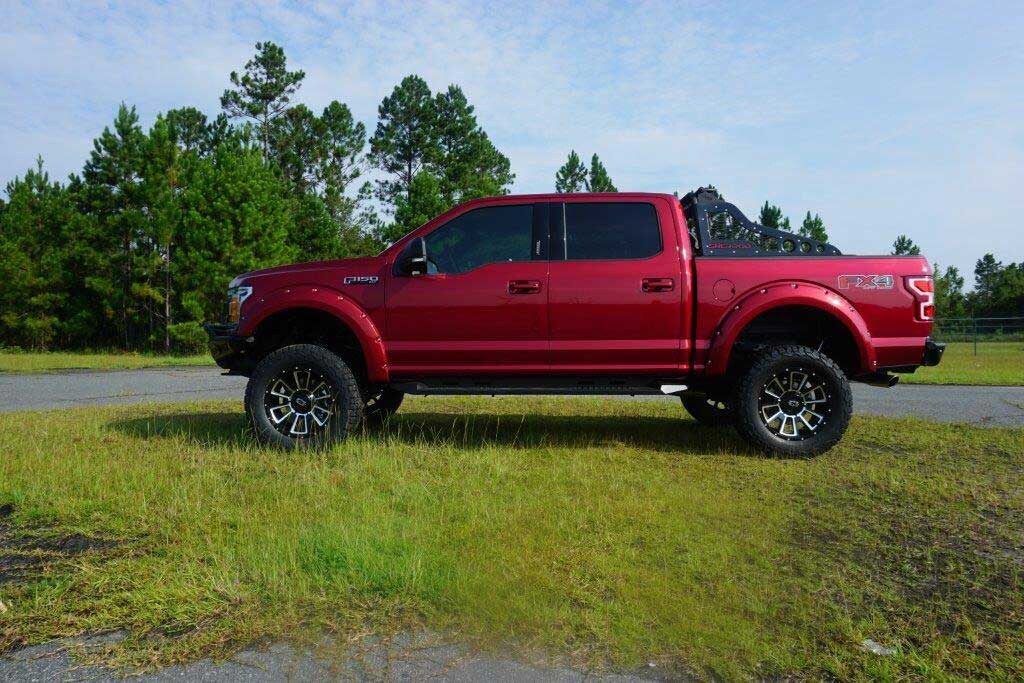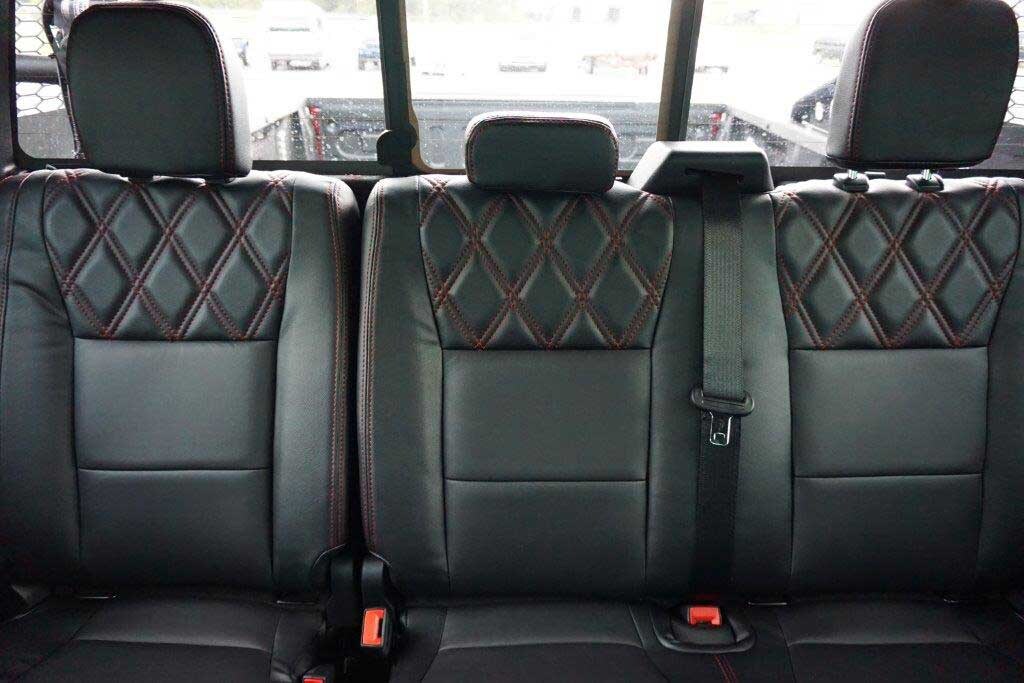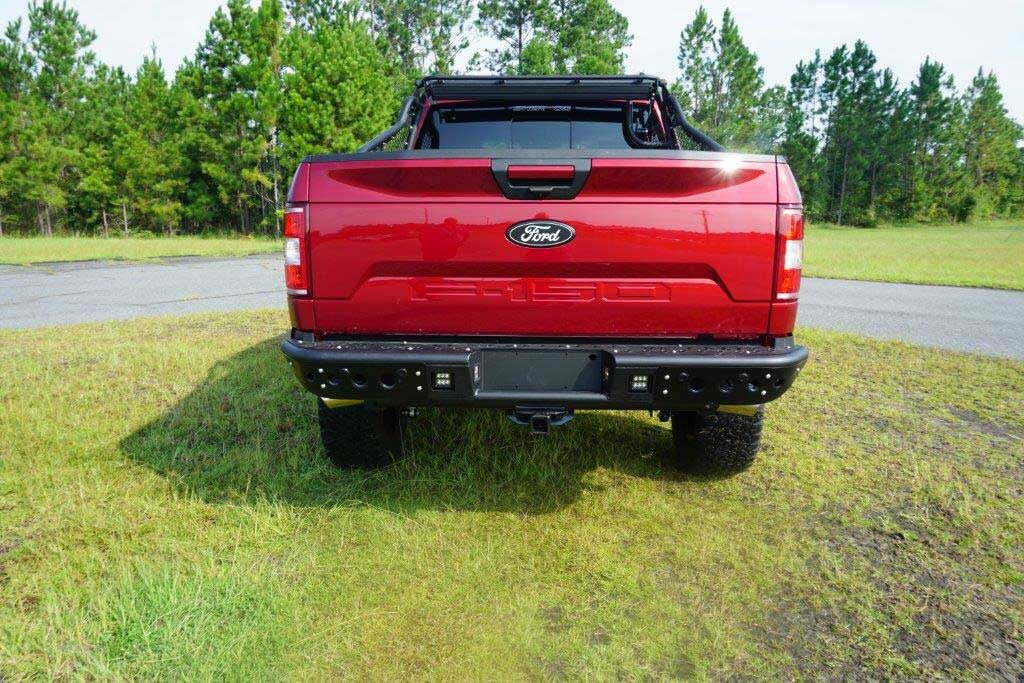 Standard Features and Interior Features
6"   Ford F150 Lift Kit
Monochromatic Painted Front Cross Member & Skid Plate
20 X 9 Black Wheels-Sherrod STD
325/60/20 BF Goodrich T/A KO2 Tires
Lug Nut Kit
Snap-In TPMS Valve Stems
Full 4 Wheel Laser Alignment
Road Force Balancing
Speedometer Calibrator
Cat Back Dual Exhaust W Stainless Steel 4" Tips
Monochromatic Painted Fender Flares
Sherrod Logos
Sherrod Owners Manual
*Sherrod Initial 1,000 Mile Service-Retorque Lift Kit & Front End Alignment
*Please Include a Before & After Alignment Print Out to Accompany the Service Invoice
Exterior Features
Tubular Side Steps Black or Stainless Steel Cab Length
Tubular Side Steps Black or Stainless Steel Wheel to Wheel
Drop Step Cab Length Side Steps
Armour Running Boards (Black)
Power Running Boards
Full Length Running Board Courtesy Lights
Accent Painted Kicker Braces & Traction Bar
Black Kicker Braces & Traction Bar
20" LED Light Bar
(2) 4" LED Fog Lights (Front or Rear)
52"/54" Curved LED Light Bar
Windshield Mount for 52"/54" Light Bar
Wheel Well Mounted Rock Lights
Tubular Bull Bar Black or Stainless Steel
Tubular Roll Bar Black or Stainless Steel
50" Straight LED Light Bar (Installed on Roll Bar & Chase Rack)
Armour Chase Rack (Black)
Spray in Bed Liner
Color Match Spray in Bed Liner
Single Solid Color Painted Racing Stripe
Single Color Solid Painted Stripe W Accent Pin Stripes
Twin Solid Color Painted Racing Stripes
Twin Solid Color Painted Racing Stripes W Accent Pin Stripes
Hoodie Paint Scheme
Monochromatic Painted Aero Design Body Kit
Accent Painted Aero Design Body Kit
Hard Tri-Fold Bed Cover
Soft Tri-Fold Bed Cover
Bed Mat
Custom Fiberglass Functional Dual Scoop Ram Air Hood/Cold Air Intake
Black Grill & Tailgate Emblems
Monochromatic Painted Fender Flares
Chrome Wheel Upgrade
Black "Stealth" Heavy Duty Front & Rear Bumpers & (1) EA 40" Light & (4) EA 4" Fog Lights Front & (2) EA 4" Fog Lights Rear
Race Series Chase Rack W 50" Light Bar Fwd Facing & (2) EA Rear Facing 4" Lights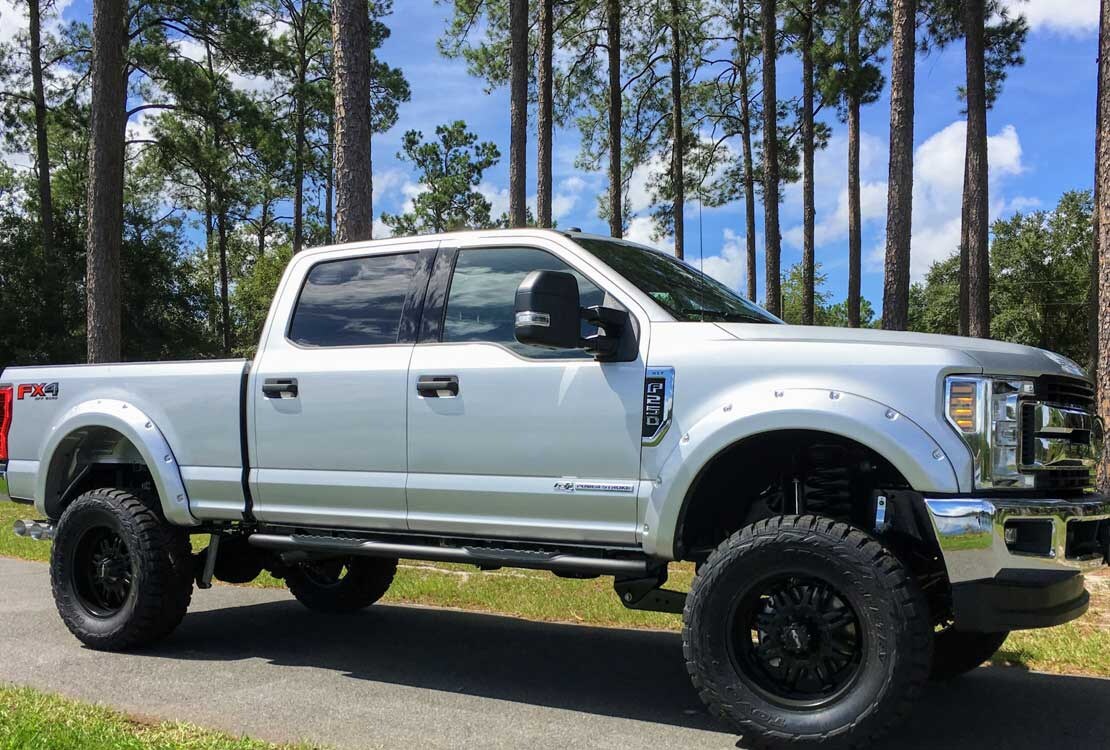 Ford F-250
The workhorse of the Ford truck line is meant to get the job done -- in style. Rough Country lift kits, 20 x 10 blackout wheels and road force balancing turn the F-250 into a true beast that can handle anything you throw its way.Chrome wheels, supple premium leather seats and color-matched bed liners ensure that you'll look as good for a night on the town as you do on the farm.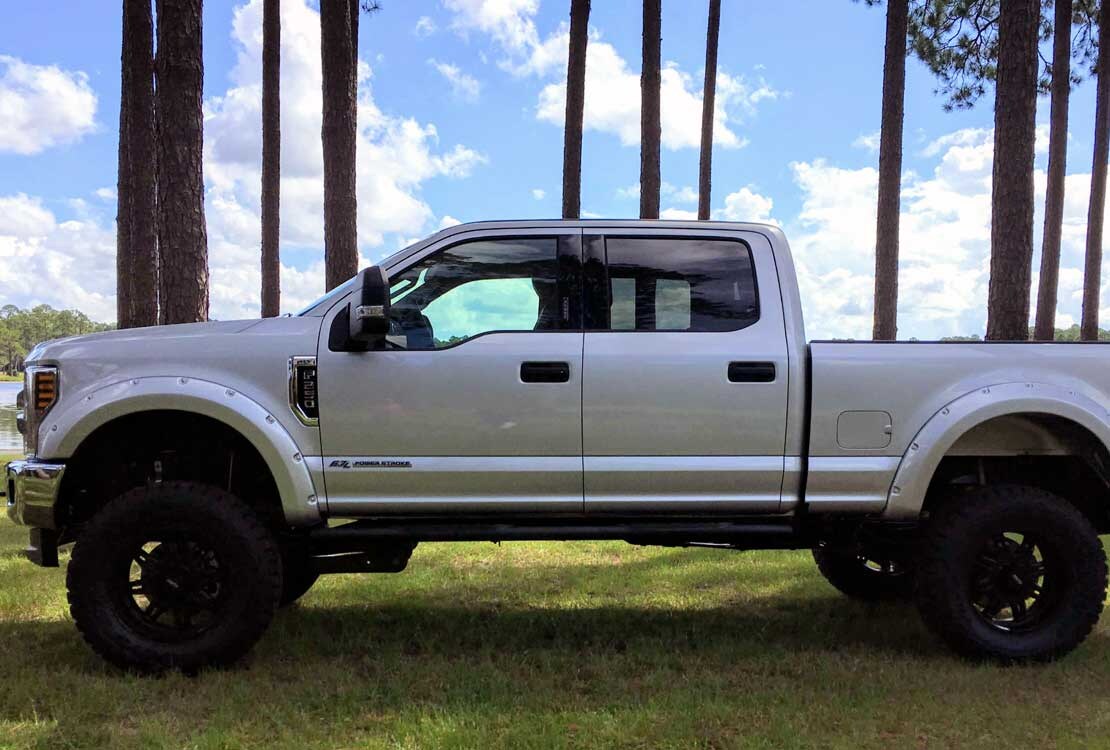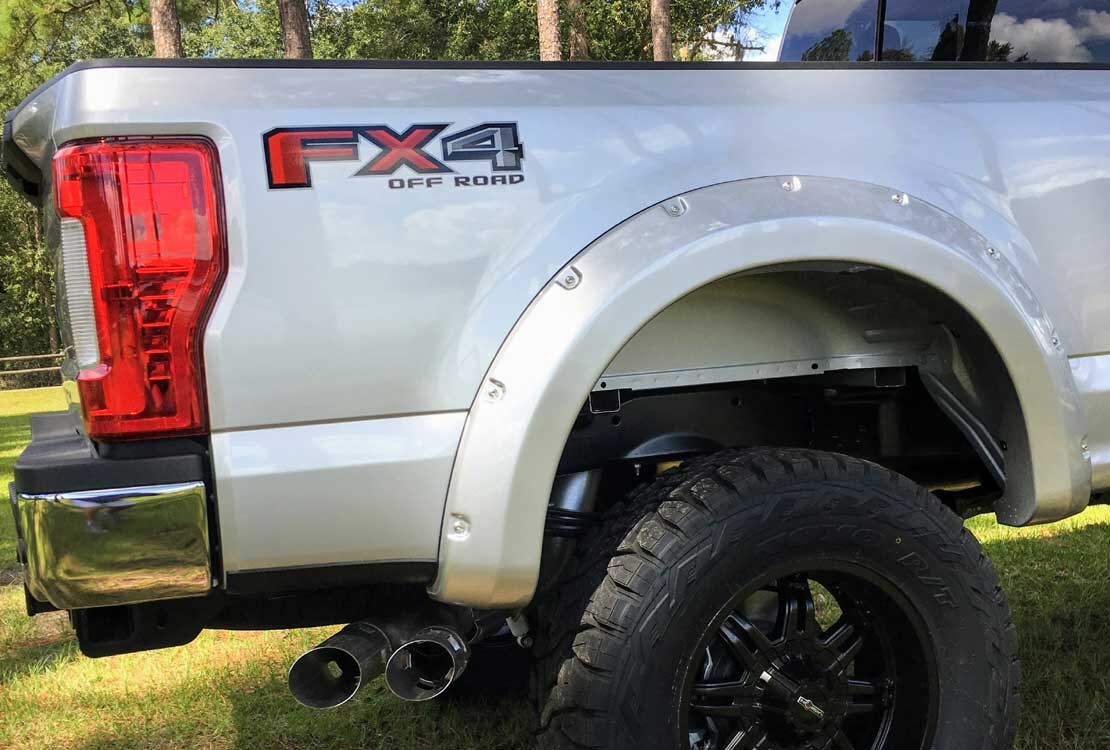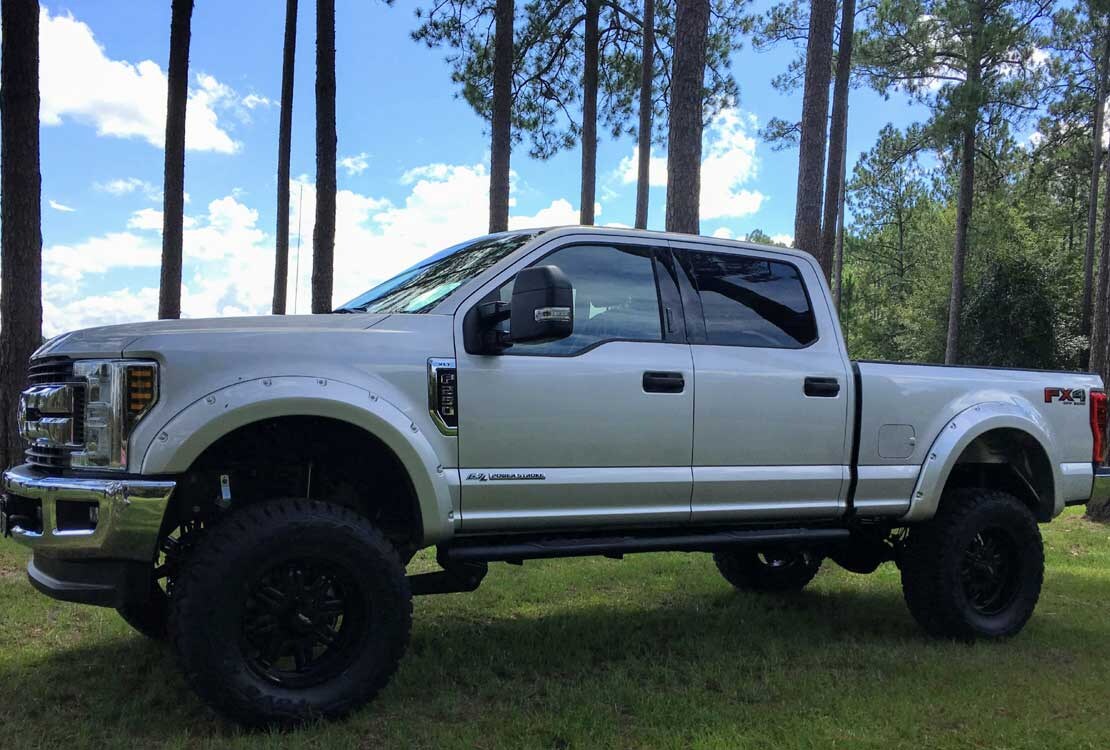 Standard Features and Interior Features
6"   Ford F250 Lift Kit
20 X 10 Black Wheels-Sherrod STD
Lug Nut Kit
Snap-In Tpms Valve Stems
Lug Nut Kit
Snap-In TPMS Valve Stems
Full 4 Wheel Laser Alignment
Road Force Balancing
Speedometer Calibrator
Monochromatic Painted Fender Flares
Sherrod Logos
Sherrod Owners Manual
*Sherrod Initial 1,000 Mile Service-Retorque Lift Kit & Front End Alignment
*Please Include a Before & After Alignment Print Out to Accompany the Service Invoice
Leather Seat Upgrade
Designer Series Leather Seat Upgrade
Front Tinted Windows
Heavy Duty Floor Mats
Accent Painted Interior Parts
Exterior Features
Tubular Side Steps Black or Stainless Steel Cab Length
Tubular Side Steps Black or Stainless Steel Wheel to Wheel
Drop Step Cab Length Side Steps
Armour Running Boards (Black)
Power Running Boards
Full Length Running Board Courtesy Lights
Black Kicker Braces & Traction Bar
20" LED Light Bar
(2) 4" LED Fog Lights (Front or Rear)
52"/54" Curved LED Light Bar
Windshield Mount for 52"/54" Light Bar
Wheel Well Mounted Rock Lights
Tubular Bull Bar Black or Stainless Steel
Tubular Roll Bar Black or Stainless Steel
50" Straight LED Light Bar (Installed on Roll Bar & Chase Rack)
Armour Chase Rack (Black)
Spray in Bed Liner
Color Match Spray in Bed Liner
Single Solid Color Painted Racing Stripe
Single Color Solid Painted Stripe w/ Accent Pin Stripes
Twin Solid Color Painted Racing Stripes
Twin Solid Color Painted Racing Stripes W Accent Pin Stripes
Hoodie Paint Scheme
Monochromatic Painted Aero Design Body Kit
Accent Painted Aero Design Body Kit
Hard Tri-Fold Bed Cover
Soft Tri-Fold Bed Cover
Bed Mat
Custom Fiberglass Functional Dual Scoop Ram Air Hood/Cold Air Intake
Black Grill & Tailgate Emblems
Chrome Wheel Upgrade
Black "Road Armour" Front & Rear Bumpers w/ 1 EA 20" Light Bar Front & 2 EA 4" Fog Lights Rear